Welcome to the Townsville Sailing Club
What's on this weekend
Racing this Sunday 24th May at 2pm

Championship Round 4
This Sunday is the heat 4 of our club championship. We will once again be running the Advanced Sailing Techniques (DS5) in the morning. This will as usual start at 9am sharp on the water, finish will be 11am. Emma Barsi has once again agreed to share her knowledge and help all members who wish to participate in better starting practices. These lessons are open to all club members junior and senior. So if you would like some tips on how to improve your starts this is the week to be joining in. The course will be run with 2 boats so the fleets can be split into 2 groups one for Sabots and Bics, all other fleets will be run with the second boat.
Please be rigged and ready to hit the water at 9am to maximise your participation. All will be sent back to beach for a break and a bite to eat from our canteen before the 1pm briefing and race start at 2pm sharp.
Flying 11 fleet is rostered on for volunteers this week-end. Please email aus2281@gmail.com to let me know if you can help in any way, kids can help also in the safety boats with a trained adult.
Senior Greenfleet is on

Saturday the 23rd
2:00pm - 5:00pm
Junior Greenfleet is on Sunday 24th from 8:00am
Please email to townsvillesailingclub@gmail.com and Paco pacrigi@gmail.com to confirm you are attending Greenfleet.

West Point weekend June 13 - 14
We would also like all members to keep June 13/14 free for a sail away destination race to West Point. The club has arranged camping accommodation at West point and a bonfire for the night. A large trailer has been arranged to carry over tents and swags and a BBQ for the night. Costs are yet to be advised but every measure will be made to keep these at a minimum. The race will be a teams event and the teams will be announced on the morning of the event after all registrations have been received. Registration for the event will be opened soon and entries will be need to be finalised by June 10 to give time to arrange the teams. This will be a great week-end away for the club and the tides are perfect for a great days sail and activities on the beach once we arrive. This is a must attend event for the year.
Thinking of improving your sailing?
2015 Discover Sailing Courses here
The teams and their skippers currently are:
Discover Sailing – Jarrod Cook;

School Teams Sailing – John de Rooy;

Junior Activities and Events – Josh Claus;

2015 Tasar Australian Championship – Alex Kostin;

2015 Sprint Regatta – Michael Guinea;

2015 Sail Townsville – John Byrne.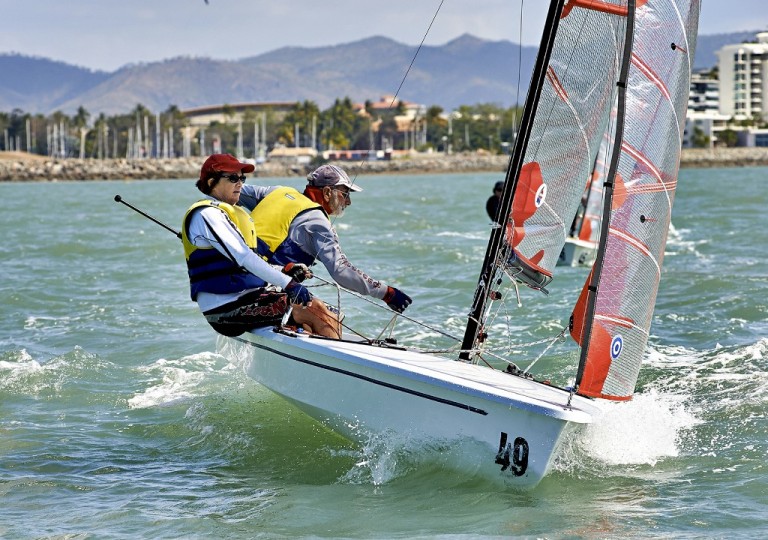 The Australian Tasar Championships are coming to Townsville in September 2015. Download the Notice of Race here
Your TSC Committee
Scroll down for more club information.......
Club Handbook Available below...
--------------------------------------------------------------------------------------------------
Discover Sailing
Courses now available throughout the year - Adult weekend intensive courses, Junior courses (with different age groups available) throughout each term and Holiday courses which also include other activities as well (beach cricket, soccer in the park and our normal Learn to Sail course). ......register now......
All courses are available at this link - at the bottom of the page in the "Upcoming Events" with the Discover Sailing & relevant age group in the heading.
http://www.yachtingaustralia.com.au/myclub/ClubDisplay.aspx?ID=4041
Registration is within each event (online) - payment is via the payments page on our website.
---------------------------------------------------------------------------------------------------
Volunteer Position
Name/s
Contact Details
Commodore
Tilley Pain

email

ph.0429 058 195

Club Patron
John Byrne
email

ph.0427 166 248



Sailing Captain
Scott McInerney
email ph.0416 547 644
Junior Captain (Under 19)
Parents Representative
Josh Claus
email ph. 0410 104 471
Volunteer/Roster Manager
Discover Sailing Principal
Jarrod Cook
email ph. 0419 706 667
Discover Sailing Admin
Venue Coordinator


Canteen Coordinator
Pam de Rooy
email ph. 0419 254 844
Facilities & Equipment Coordinator
Admin Assistant
Christine Franklin

email

Sail Townsville Coordinator
John Byrne
email

ph.0427 166 248

Regattas
Mick Guinea
email

ph. 0402 071 479

Website/Communications Coordinator
John de Rooy
email ph. 0418 980 644
Marketing/PR Coordinator
Class Coordinators
Sabot Coordinator
Josh Claus
email ph. 0410 104 471
Laser Coordinator
Tasar Coordinator
Alex Kostin
email ph. 0407 646 030
505 Coordinator
Cat Coordinator
Mick Guinea
email

ph. 0402 071 479
Volunteer Information

Members helping with club events can find information here:


Strategic and Operational Plan

2011 - 2016 Strategic and Operational Plan:

Grants
Last Modified on 21/05/2015 00:11