Welcome to the Townsville Sailing Club
What's on this weekend
This Sunday the 12th is our next adventure race, because of the tides being high at 4pm we plan to start the race a little later in the day. Briefing will be at 12 noon and the race start will be 1300. Make sure you are at the briefing to hear the course. All I can say right now is it starts at the pool and finishes on the rigging lawn.
The rostered crew are beach crew, we will not need to launch the big boats, the ribs will be enough for on the water (weather dependant), so most volunteers will needed on the beach. If you are able to volunteer in any position send a quick email to club tsvsailing@gmail.com.au to get onto the roster.
If people come early feel free to rig and enjoy the day sailing early, the ribs will be available to any qualified member to take out from 8am.
Thinking of improving your sailing?
2015 Discover Sailing Courses here
NQ Interschool Teams Championships
The finals round was held in Townsville on the 28th and 29th March with school teams competing from Whitsundays, Townsville, Cairns and the Atherton Tablelands. At the end of 36 races the 4 top teams were only one or two races apart and a countback on placings decided Atherton Blitz were to hold up the Championship Shield with Trinity Anglican School second. Well done to all the students and big thank you to all the wonderful volunteers. Please contact John de Rooy on 0418 980 644 or email nqssc@outlook.com if you know of any schools or students wanting to get involved in sailing.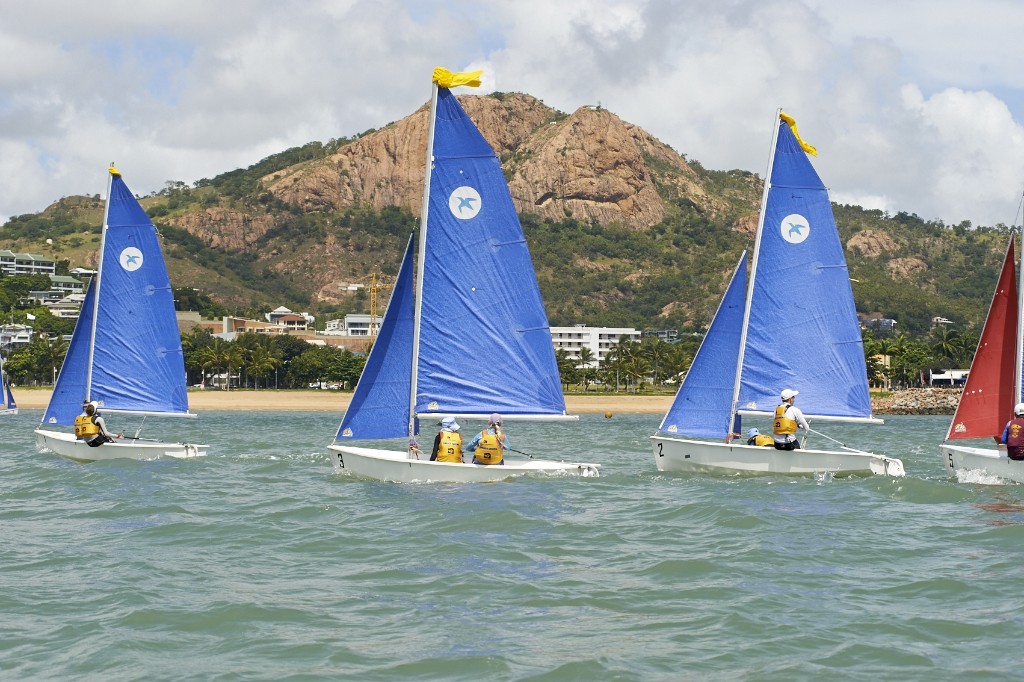 Message from Tilley Pain our new Commodore
Welcome back to another year of sailing. I would like to introduce myself to those who do not know me.This year the new committee will continue to operationalise the Strategic Plan commissioned by the previous committee under the commodore-ship of Jim Barsi. We will focus on Strategic Goals 3. Increase participation 4.Promote awareness of sailing and the club 5.Develop revenue streams
Several of the strategic goals have already been acheived through the Discover Sailing program. Most notably
- regular youth and adult learn to sail classes
- retention strategy via junior and adult Greenfleet
- Discover Sailing days to promote the club and recruit new members.
The increased revenue from these activities allows us to pay for the maintenance and upgrading or our boats, Admin Officer and Instructors (However, only some of the instructors are paid). The payment allows our junior members to gain an income instead of working at MacDonalds and gives them valuable experience which may one day translate into a career path.
New Discover Sailing activities you can expect to see in 2015 include a Tackers program, Women's program and Active Schools. It is going to be a busy year, so come along and enjoy your club and support our activities. A great way to start supporting is to come down this weekend and volunteer for the School Teams Events.
See you on the water soon. Kind regards, Tilley
The teams and their skippers currently are:
Discover Sailing – Jarrod Cook;

School Teams Sailing – John de Rooy;

Junior Activities and Events – Josh Claus;

2015 Tasar Australian Championship – Alex Kostin;

2015 Sprint Regatta – Michael Guinea;

2015 Sail Townsville – John Byrne.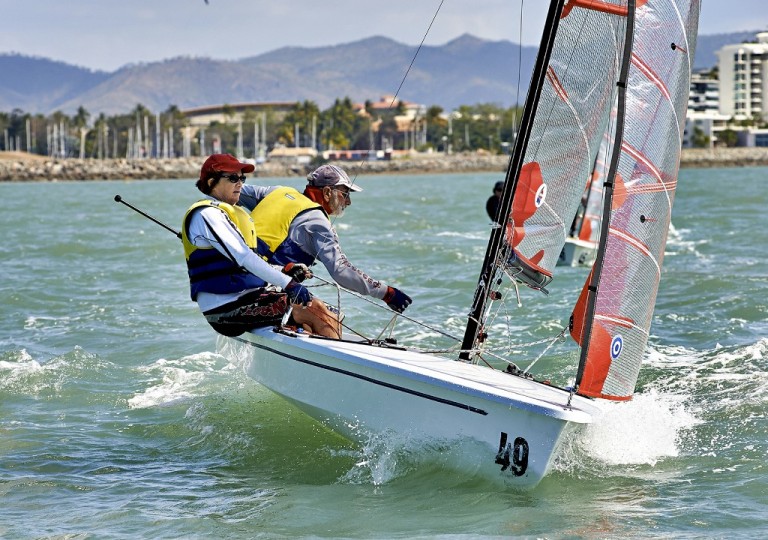 The Australian Tasar Championships are coming to Townsville in September 2015. Download the Notice of Race here
Your TSC Committee
Scroll down for more club information.......
Club Handbook Available below...
--------------------------------------------------------------------------------------------------
Discover Sailing
Courses now available throughout the year - Adult weekend intensive courses, Junior courses (with different age groups available) throughout each term and Holiday courses which also include other activities as well (beach cricket, soccer in the park and our normal Learn to Sail course). ......register now......
All courses are available at this link - at the bottom of the page in the "Upcoming Events" with the Discover Sailing & relevant age group in the heading.
http://www.yachtingaustralia.com.au/myclub/ClubDisplay.aspx?ID=4041
Registration is within each event (online) - payment is via the payments page on our website.
---------------------------------------------------------------------------------------------------
Volunteer Position
Name/s
Contact Details
Commodore
Tilley Pain

email

ph.0429 058 195

Club Patron
John Byrne
email

ph.0427 166 248



Sailing Captain
Scott McInerney
email ph.0416 547 644
Junior Captain (Under 19)
Parents Representative
Josh Claus
email ph. 0410 104 471
Volunteer/Roster Manager
Discover Sailing Principal
Jarrod Cook
email ph. 0419 706 667
Discover Sailing Admin
Venue Coordinator


Canteen Coordinator
Pam de Rooy
email ph. 0419 254 844
Facilities & Equipment Coordinator
Admin Assistant
Christine Franklin

email

Sail Townsville Coordinator
John Byrne
email

ph.0427 166 248

Regattas
Mick Guinea
email

ph. 0402 071 479

Website/Communications Coordinator
John de Rooy
email ph. 0418 980 644
Marketing/PR Coordinator
Class Coordinators
Sabot Coordinator
Josh Claus
email ph. 0410 104 471
Laser Coordinator
Tasar Coordinator
Alex Kostin
email ph. 0407 646 030
505 Coordinator
Cat Coordinator
Mick Guinea
email

ph. 0402 071 479
Volunteer Information

Members helping with club events can find information here:


Strategic and Operational Plan

2011 - 2016 Strategic and Operational Plan:

Grants
Last Modified on 08/04/2015 19:07